Please Note: Motorcentral Mobile is only accessible from modern smartphone devices and requires a hosted Motorcentral system.
If you are unsure if your Motorcentral is a hosted version or wish to make your current version hosted please contact the Support Team for assistance.
Accessing Motorcentral Mobile
To access Motorcentral simply point your mobile device to the following URL:
http://portal.motorcentral.co.nz/
You will be presented with one of the following login screens.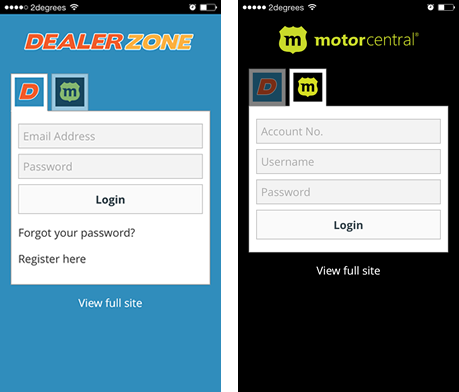 If not already selected, tap the Motorcentral icon to login.
Entering Your Login Details
To access your Motorcentral information enter the following:
Account Number: Your Account Number can be found on your most recent invoice or by contacting the Motorcentral Support team
Username: This is your Motorcentral Username.
Password: This is your Motorcentral Password.
Tap the Login button to complete the login process.
Logging in for the first time
If you have not yet connected to Dealerzone you will be required to do so by entering your email address and agreeing to the Dealerzone Terms & Conditions. The email address you enter must not already be registered on Dealerzone. If you have issues registering your email address please contact the Motorcentral Support Team who will be able to assist.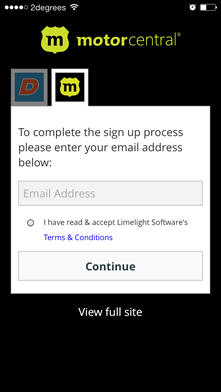 Tap the Continue button to complete the login process and access Motorcentral Mobile.