The Government is accelerating its response to climate change to achieve a carbon neutral target for New Zealand by 2050. The Clean Car Discount was introduced to help bring down transport emissions by making the purchase of zero and low-CO2 emission vehicles more affordable.
From 1 April 2022 the Clean Car Discount is now based on CO2 emission values. There is a zero band in the emission values at which there is no rebate and no fee is payable. A vehicle with a CO2 emission value above the zero band incurs a fee.
Information on these bands and the according rebates and fees can be found here: https://www.nzta.govt.nz/vehicles/clean-car-programme/clean-car-discount/overview/
-
From v3.2.11 of Motorcentral DMS you can retrieve the applicable rebate or fee of a vehicle for usage in locations like your Consumer Information Notices, Summary Sheets, Sale Agreements, websites etc.
Retrieving Clean Car data
Clean Car data is provided as part of the government-provided FuelSaver service, so if you complete a FuelSaver data retrieval the corresponding Clean Car data will also be automatically downloaded.
You can view the Clean Car information on the Admin tab of the Vehicle.



You can also retrieve the Clean Car data at any time by clicking the blue 'Refresh' button (as shown above). Note: the date/time of the latest retrieval is also displayed for your convenience.
Whilst the fee/rebate per vehicle is not expected to change we do advise you 'refresh' the data on a frequent basis to ensure you have the most up-to-date values.
In the event the data retrieved is incorrect you can manually override any information by clicking the green 'Edit' (pencil) button. We only recommend doing this if you are certain the information retrieved by the Fuelsaver service is incorrect.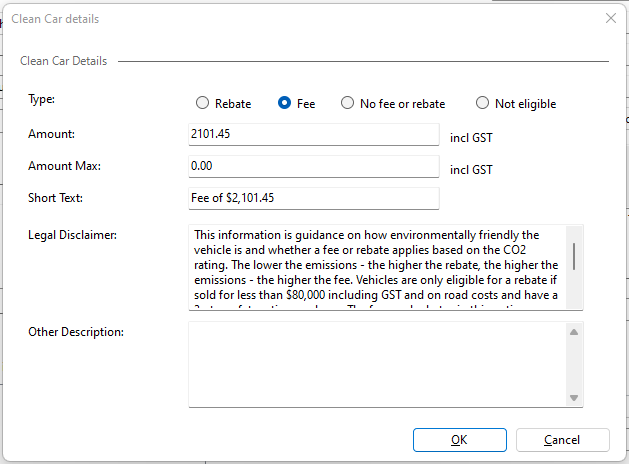 If you retrieve new Fuelsaver information at any time and the Clean Car data is different to that currently stored for that vehicle you will be asked if you'd like to update it. This allows you to maintain your 'overwritten' values if required.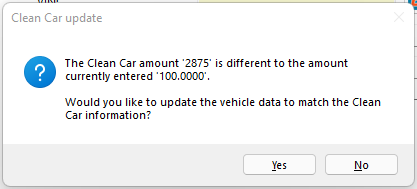 Displaying Clean Car information
In Motorcentral DMS, Clean Car Fees are essentially treated as on-road costs. That means wherever vehicle pricing is displayed the Clean Car Fee is not included in that pricing (like ORC). Instead, where appropriate, Clean Car information will be displayed separately.
This also means Clean Car Fees are treated as Sale Extras (like ORC) when applied to a sale.
Vehicle Inbox grid
There is a 'Clean Car' column in the Vehicle Inbox grid which will display the Short Text value of any applicable Clean Car Fee or Rebate you have entered for a vehicle. This can be moved to any location but defaults to the immediate right of the 'Retail/Sold Price' column.
If the column is to narrow to read the content you can mouse over and a 'tooltip' will appear showing the information in it's entirety.
Note: the Retail/Sold Price column values are as entered for that vehicle. ie. Clean Car fees/rebates have not been added/subtracted from the retail/sold price of that vehicle.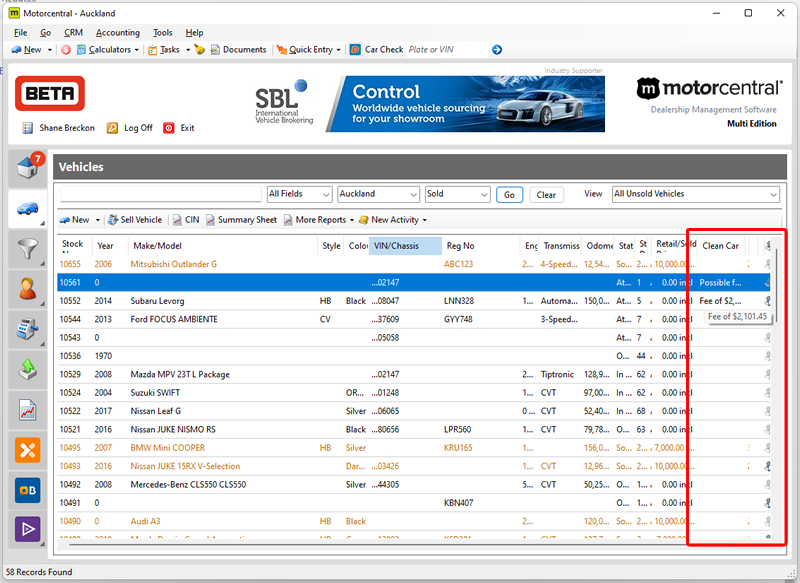 Consumer Information Notices
Because CIN cards must display an 'all inclusive' price, the price displayed includes any applicable Clean Car fees. Additionally it will identify the Clean Car fee amount itself, so the customer can easily determine what proportion of the total price is the Clean Car fee.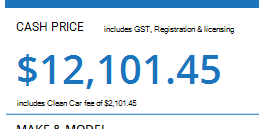 Note: if a vehicle has a rebate, the rebate is not applied to the pricing displayed on the CIN as any refund must be completed by the customer after their purchase. However the rebate amount available will be displayed next to the price displayed.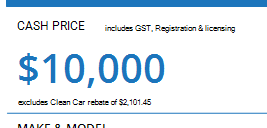 Summary Sheets
Summary Sheets have the option to include Clean Car fees in the pricing or not. By default they do not include Clean Car fees.



To include Clean Car fees:
Browse to Tools > Reports...
Select the 'Vehicle Summary Sheet' report from the list and click the 'Edit' button
Click Next until you reach the below screen




Change the Clean Car Fee option to 'Include in vehicle price'.


Other Reports
All retail/sold pricing displayed in reports will not include applicable Clean Car fees. If a Clean Car fee is included in a sale, sales reports will include that info as part of 'Sale Extras'.
Adding Clean Car Fees to Sales
As Clean Car fees are related to each individual vehicle, you'll find the Clean Car fee information located under each vehicle being sold.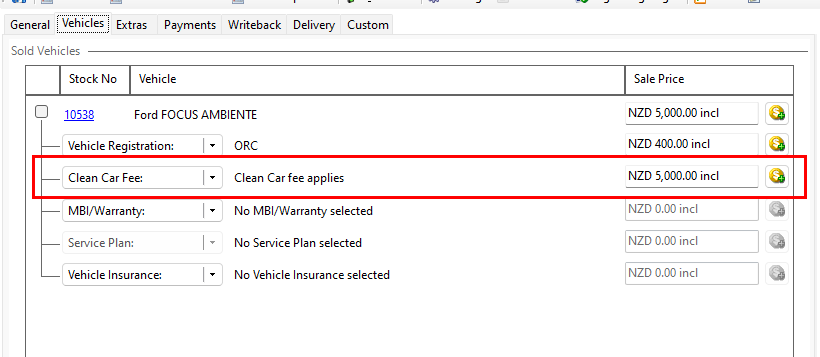 Any Clean Car fee amount you've already recorded for a vehicle will automatically be pulled through to the sale. You can also grab the latest value stored by clicking the Clean Car Fee button.
The Clean Car fee will be shown in the Sale Summary and also on the VOSA or Wholesale Invoice (if applicable).
Clean Car Fees & Accounting
There are two new ledger code entries for Clean Car Fees: Clean Car Fee (Income) & Clean Car Fee (Expense). These can be found under Tools > Settings > Accounting > Account Codes...